Free Tour The Other Side Of Madrid - Los Borbones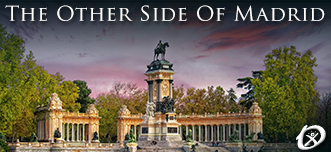 Would you like to know the other side of Madrid: monumental and majestic... Footprint of the Bourbon Power?
Join our Free Tour "The other side of Madrid", a route through the Madrid of Los Borbones, we will learn about the modernization and expansion of the capital of the Empire, as well as the influence of one of its most important characters, Carlos III. A route full of great monuments, architecture and landscapes that have witnessed the evolution of the Spanish capital. At the end of the tour, our guides will take you to enjoy a free refreshing drink.
MEETING POINT AND SCHEDULE
The Free Tour "The other side of Madrid" starts at two times during the day: 11:30am and 5:30pm. (8pm, summer). You will find our guides from 11am and 5pm (7:30 pm Summer); regardless of the season or weather condition. The meeting point is in the Puerta del Sol Square around the equestrian statue of Carlos III; the guides are uniformed and you can identify them with our distinctive white umbrella with the logo of Xtreme Tours Madrid. We handle small groups, for which we recommend making your reservation in advance.
FREE TOUR SPOTS OF INTEREST
- Puerta del Sol - House of Postas and Real House of Customs - Metropolis Building - Church of San José - Buenavista Palace (Army General Headquarters) - Palace of Linares (House of America) - Bank of Spain - Communications Palace and City Hall - Cibeles fountain. - Puerta de Alcalá – Retiro Park - Lake and Monument of Alfonso XII - Crystal Palace - Fallen Angel Statue. - Felipe IV`s Gate and Plaza Parterre - Church of Los Jerónimos - Prado Museum - Fountain of Neptune - Congress - Free drinks - And many other great and spectacular sites.
ADDITIONAL INFORMATION
The Tour "The other side of Madrid" has an approximate duration of 2.5 hours, so we recommend taking the necessary measures of hydration, comfortable clothes and shoes, as well as protection according to season and weather condition. The Tour "The other side of Madrid" is done under the modality of Free Tour, for which it has no stipulated price, being you who at the end of the tour puts monetary value to the quality of your experience, which motivates our guides to do every day the best possible work with information, enthusiasm, fun and good humor, to give you the best experience and earn your respect.
GENERAL CONDITIONS
We handle small groups of maximum 15 people, to guarantee the quality and personalization of the route. The free drink offered at the end of the tour can be chosen among: beer, lemon white, sangria, summer red, regular drink, juice or water.